Background
In football, the national pool places unique constraints on international managers who must make do with players available to them and cannot sign new players – unlike their club counterparts.
However, the national pool also presents unique opportunities for coaches. International football windows are often immensely brief, opponents are usually known far in advance and can, thus, be scouted for strategy. That knowledge can be applied in the squad selection. Refreshingly, national pools also provide far greater freedom in squad selection than any club manager receives. Rather than 23 players, a manager may have 70 viable options.
 For these reasons, an intimate knowledge of the national pool is of immense importance. That knowledge, though, is easier to gain for some than it is for others.
 Take the current world champions, France. Coach Didier Deschamps has 421 players to choose from Europe's top five leagues (Serie A, Ligue 1, La Liga, the Bundesliga and the Premier League) which have a heavy data and statistical coverage for easy player monitoring. These leagues are also just short trips away from France.
 New Ghana coach C.K. Akonnor, meanwhile, faces a very different challenge. In all likelihood, the majority of players to be selected for his first squad ply their trade outside the country. Most are in Europe but some are as far afield as China, Mexico and the United States.
 The ability to gather knowledge on those players is therefore much more of a challenge. Yet, that knowledge must be gathered in order to give the Black Stars the best chance of success. By understanding the options available, the team can make smarter decisions about squad selection.
 Furthermore, for teams like Ghana, their international programme makes an awareness of a wealth of different options absolutely imperative.
 When playing oppositions in CAF tournaments and World Cup qualifying, Ghana often see a lot of the ball. Consequently, they are allowed to play a possession-orientated game and are required to break down compact, low-blocks in attack.
 In World Cup games, however, the team often needs to play a more counter-attacking style. These two styles do not necessarily suit the same player types. By having more knowledge about more players, tailored squad selection is easier.
 The required information gathering process can receive significant assistance by utilising statistics and data.
In Part 2 of the African Sports Centre's Ghana Report, we will use data to analyse the outfield players in Ghana's national pool, highlighting the most striking players and characteristics. In doing so, we hope to identify players' strengths and weaknesses. 
If you missed Part 1 of our Ghana Report, which used data and technology to analyse Ghana's performances under Kwasi Appiah, it can be found here.
Methodology
Using Wyscout's player database, we identified 258 Ghana eligible outfield players and analysed their raw data from competitive matches in the past year (ending February 9th 2020). We used the data in two ways: We analysed the pure raw data and then combined various raw statistics to create compound measures that we refer to as "attributes".
These attributes enabled us to capture more raw data points on each player while being able to produce clear radar diagrams identifying player style, strengths and weaknesses. By using these methods, we were able to better understand the profile of each player in the national pool. On radars where an "average" player appears, this is the average of the attributes of players at the relevant position in the national pool.
 It is worth noting that we have not adjusted for league strength. To do so without substantial contextual information and research would risk creating major issues with the data set.
 Therefore, it is important to stress that (as with all sports data), the conclusions reached are not definitive. Players whose numbers look outstanding compared to average but who play in a lower quality league may not be capable of delivering those performances at an international level. However, such players may be worth exploration and further research. This is the exact point of using this data. It is not to enable you to pick a squad. It is to guide and assist the understanding of the national pool.
 Additionally, players who ply their trade outside our data coverage are not considered in the piece; it is for this reason that Ghana-based players do not feature in this report.
Full-backs
At right-back, the current incumbent is Andy Yiadom. With Daniel Amartey's injury issues, Yiadom has proved his quality. When the two are compared, their differences are stark.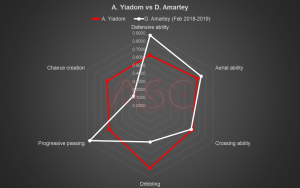 As you would expect from a former centre-back and defensive midfielder, Amartey impresses defensively, aerially and with his progressive passing. However, Yiadom looks to be a more effective option going forwards. His chance creation, crossing ability and dribbling attributes are superior to those of Amartey.  
We are therefore given a picture of two different right-backs. Amartey is perhaps more of an inverted full-back. Popularised by Pep Guardiola, these players operate as an additional central player, contributing in possession & overloading the midfield to enable control of the ball and to protect against counter-attacks. Yiadom meanwhile, is more of an attacking full-back, one who bombs on and provides width in attack.
Outside of Amartey and Yiadom, the options are cloudier. Our numbers nevertheless highlighted Enock Kwateng of Bordeaux, Eric Boakye of NK Olimpija and Robin Polley of Dordrecht as being worthy of further investigation.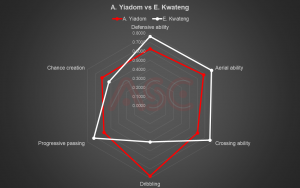 Kwateng is France-born to Ghanaian parents. He is defensively stout and good in the air, with the best aerial win percentage out of qualifying Ligue 1 full-backs. Additionally, he is a capable progressive passer and crosser. The numbers suggest Kwateng is a multi-faceted full-back capable of contributing in different ways based on the opponent. At just 22, he has plenty of opportunity to develop further.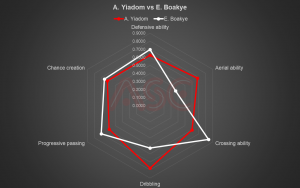 Boakye is another intriguing option, and is only twenty years old. He shows up impressively defensively compared to Yiadom, owning the best defensive duel win rate in the Slovenian First Division amongst qualifying full-backs. Furthermore, he is also a versatile attacking threat, offering penetration as a passer and runner as well as crossing ability. This contributes to his chance creation abilities. Whilst there are level of competition questions, his impressive attributes warrant serious investigation.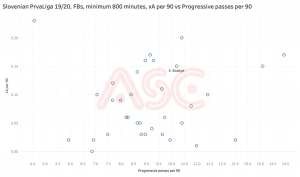 Polley meanwhile is a hub of activity, particularly in attack. Amongst qualifying FBs in the Dutch second division, he leads the league in dribbles per 90, crosses per 90 and passes to the penalty area per 90. Polley is also fourth in the league in possession adjusted interceptions and fifth in progressive runs per 90. With output like that, he will hope to return to his parent club ADO den Haag and make a push for the first team.
Harrison Afful is an additional right-back option. He remains a quality full-back who is capable defensively whilst being an effective creator of chances through his crossing ability and progressive passing.
At left-back, Gideon Mensah is now the standout candidate. Currently on loan at Zulte Waregem in Belgium, the 21-year-old is impressive in every attribute considered for full-backs.
To continue reading this article, please click on this link to access full content on ASC website: https://ascafro.com/2020/03/02/ghana-report-part-2-statistical-and-tactical-analysis-of-akonnors-black-stars-player-pool/